My Lockdown Experience with homestay
Hi, I'm staying at a homestay in London. I'm sending you my lockdown experience since I arrived in London in January 2021. When I arrived at the homestay, the family kindly welcomed me. I was worried and concerned about coming from Japan, but I have been in touch with the host and I have decided that it was the right thing for me to do. I thought it was a good family from the minute I have arrived. I had to quarantine and I was worried that I would feel lonely and isolated, they brought me hot meals and hot drinks to my room every day of the lockdown, I didn't feel like I was suffering as we could stay in touch with each other via FaceTime, which we agreed to do. Now that my quarantine has ended, I am enjoying that we can talk about many things with my family, we have a beautiful park that I can go to nearby. We have a good relationship. I was of course anxious about covid but now I feel happy, secure and supported. I feel like living in the homestay has been the best for me, because someone local knows, understands and supports me during this time. I have been shopping, I feel okay to go to the shops. I have learned the rules and being guided by the host at the weekend for the first time I took the underground to see where my school was near Angel station, even though it is closed at the moment. I felt the journey and the experience was an easy one, but only because the family supported me with lots of things, for example, that I have to wear a mask or that I should maintain the distance, which some rules are a little bit different to how it is in Japan. But I am happy and it is really good that I came to this house and that I have this experience. And I have no hesitancy in recommending it.
Japanese student in Homestay
The House Share Experience from a Spanish student
Hi everyone, I have travelled recently from Spain. I wanted to travel and my parents said, I am an adult and as long as I can take care of myself, I can book my stay. I have heard of this agency and overall I have been very happy, I booked to stay in a flat, which is very nice, the area too. We have many facilities in the house such as a dishwasher, dryer, small private garden with a table. And of course, I booked it because I have not to think of other things. We have a cleaner every week which is a plus. What I like is the client support I receive from them. They seem to work hard to coordinate and fix any issues that appear in the house, and it is extremely valuable in my opinion. I also remember one time when the washing machine was broken during my stay, they fixed it in a few days also sometimes we had other problems and these were also fixed quickly. I am a long-stay student and have been here for many months now and the communication with the management Jessica and Aneta are very supportive and replying quite soon to all queries, so I am a happy customer. I know my stay coming to London would not be as easy if I didn't have a support of an agency that handles everything for me, also with very flexible terms and covid coronavirus safety measures which I was happy to see and which made my stay possible during this time. It was a relief for me not to worry about all the horrible stories I heard before coming to the UK about landlords and being worried about contracts and with the agency I didn't have any of these concerns, because they offered me instalment payments and flexible terms, which was also very important to my decision. Happy customer and I am grateful I can still enjoy my stay in London.
Spanish student in House Share
'It's about the mindset, preparation and communication'
We have a lovely young man called Yushi from Japan. When he arrived at our home my son met him at the door and show him the bathroom, toilet and things around his room. My son explained that he must stay in the room for ten days for quarantine. This was not a problem because we had been emailing each other back and forth before his arrival. When he got settled in his room I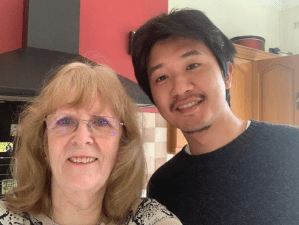 FaceTimed him and explained that all his meals, drinks and snacks would be taken to his room by members of the family. He was allowed to use the garden for his smoking and we were talking with him. We were FaceTiming him during dinner so I could introduce him to the family. We had pre-agreed this would be the best way for us to communicate and not come into the actual physical close distance and allow him his space. He knew and was comfortable enough to ask him to bring him water hots drinks and snacks to his room which I was happy to do. After day 5 he was able to get a covid test and it proved to be negative. He was allowed the run of the house he was so happy, at a distance. I showed him around the tube station and explained the different lines and explained that we were still in lockdown. He had no problem with this. After his class is done online at home, he goes for a walk to the high road to get some shopping and we have a beautiful park at the end of our road. I think we all coped really well. I don't think he suffered any hardship and neither did we. A much simpler experience than we anticipated, we were open-minded to welcome international students as we have done for many years.
Mrs E Ely, London
''Long stay student…he just became part of our family''
When our Panamian student arrived, we knew he was going to be with us for 6 months and with difficult times. Of course, we were worried, but we wanted to host, we had done all the risk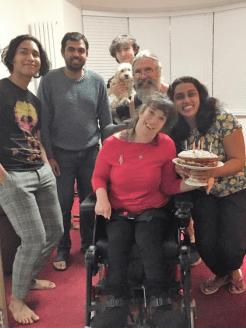 assessments with Hosts and felt ready and assured. How did we get things ready? We did make a cupboard in the kitchen free for his use only with his own plate, cup, glass, utensils, hand sanitisers etc etc, we were advised the best way to handle quarantine and keep us all safe. And of course food and drinks of his choice that he can help himself any time of day or night. Also a shelf in the fridge for his use only. We always ask what our student would like from the supermarket every time we go and gladly picked it up for him until he could go out. Our student studies with his zoom class and also has taken on extra studies in English as well, he does have time after all so why not chat and talk, he has signed up to all sorts of free online things as have we! In his free time, he skateboards around our local park and draws the wildlife he sees there. It's a nice mix of countryside location here, we have all taken up some hobbies. Our student loves music so enjoys sharing and listening to music. He interacts with us all and the other student we have at our home. Either I or my husband cooks an evening meal with fresh ingredients every day. Life is very interesting, there's a lot to talk about and we all try to stay busy and keep our minds occupied in lockdown by being creative and learning and enjoying precious time together. A few months in now, only a few months to go, having students as part of our family makes it more interesting and exciting and certainly not boring.
Ms S Mason, London
''What could go wrong, it did!'
What an experience – the lockdown story of our wonderful Dublin host family, Mrs Maria T. It started some four months ago when her student William's school closed down following the
lockdown. The school didn't just close down during lockdown, it closed permanently, with no one left to support us or our host family or indeed the student. William was a 59-year-old mature student from Argentina and booked on a 10-week programme. The school closed down just at the time he arrived, so he didn't manage to start any of his school lessons and was left stranded.
What did we do? What did our fantastic host family do? Keep him, look after him, support him throughout. He had medical needs as an insulin-dependent diabetic, had run out of money that he'd bought as an allowance for his time in Ireland and he also ran out of his medication. Together, with the support of our host who drove him to and from hospitals and embassies, he stayed on in Dublin for a further few weeks (from the original 10-weeks). It wasn't all stressful. He enjoyed homemade Irish meals, walks with the hosts dog, feet-up chatting to his host, Maria, who enjoyed his company too as a host who lives by herself. Within weeks, loaded with the stress of it all (half of which we are not even talking about in this piece), they adjusted and adapted to a routine….breakfast in the conservatory at 8 am, trying new recipes together for dinner, calling family back home to check on their health and other local matters with his own life and family in lockdown in Argentina. He walked the dog, read the newspapers, gained valuable experience in online shopping, called the consulate, called the embassy, called the doctors and carried on daily until someone came good! No other school would teach him, no organisation would offer assistance.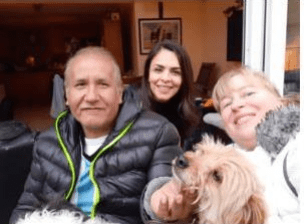 He couldn't get a flight home as his country had closed their borders. Blessed with a comfortable home setting at hosts home with a garden, William eventually got on a repatriation flight back to Argentina through France after eleven weeks in Dublin and is home safe and sound and in one piece! A wonderfully kind host who went above and beyond and, to this day, keeps in touch with him sharing their memories of lockdown in Dublin. We thank her from the bottom of our hearts, even if we sent chocolates Photos of her in receipt! William was placed with a host family Mrs Maria T by the accommodation provider, Hosts International. Hosts International's incredible staff namely Janette and Jessica (with her Spanish language assistance) assisted the student and the host every single day of every week. We asked our host how she felt about the whole thing. She said, "Would I change things? Probably yes. Will I continue hosting students? Yes." she said with a laugh!
Ms M Tassie, Dublin
''Being Covid safe was our main concern''
We, the Rosenberg hosts, have always wanted to help people have a safe, we always wanted to help People have a Safe, Enjoyable, Happy experience of London from every point of view. So we decided to host a young person, although there were few, to help out at this time and to continue with the hosting experience for all, to provide the opportunity and of course, have a bit of extra income too. We had to prepare ourselves, we always do when welcoming a new international student, but with Covid, we had a bit more to do, for us as well as our guests. We purchased disposable masks, gloves & plenty of hand gel, especially on the Porch for return to the Home daily. We do the same so we teach and ask our students to, and many are already used to it as they do the same in their country and their home, some are not, so we tell them about the rules and guidelines, we advise them the correct media updates to look at and refer to. Our student arrived and then we were in lockdown so they were at home studying, We gave Breakfast in bed on a New Tray that I got for them and made avocado, fried eggs on toast. Dinner was always enjoyed together as a family where the conversation was varied & hilarious, so important to talk and laugh. Our Home is Always clean but we had the inside of our Home painted white & New flooring completely on the Ground floor, a project for lockdown, looks lovely and we cannot wait to share with new students. As long as Guests value us & appreciate the Government is trying to Help their People. All in all an interesting time to do anything.
Mrs A Rosenberg, London
'It's different'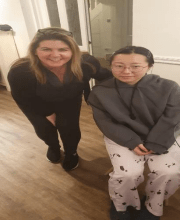 Hosting during the lockdown has been fine so far. My kids along with my student are learning online for the past few months now, it's definitely not the same experience for her as previous students as she is not out and about, not mixing with students from her school, she misses the experience. My kids only have a couple of friends in their pod so we are all busy trying to keep each other safe from catching the COVID virus so far so good no one in this house has been ill. We continue trying to make the most of it and she is still learning and living as part of our family.
Ms O Sheridan,Dublin
"Added cost"
Well, they (our students) were all aware that they had to isolate for 2 weeks so we chose to do this with social distancing in place. I prepared meals and we ate together in the evenings at two ends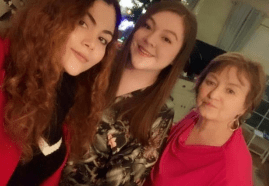 of the room. Most of the time was spent in their room apart from a trip to the shops and a walk after the isolation. It involved more expense as lights were on constantly and had to provide extra heating due to the fact that they were taking classes online. They watch TV for a while in the evening. Hosts do reimburse us more for lunches and quarantine. It's a commitment and it was a
different experience because there was no outlet for them and I was their only company for most of the time but we made it and I'm glad they got the opportunity to come and still do some learning.
Ms M Lacey, Dublin