INFORMATION FOR POTENTIAL HOSTS
Thank you for your interest in registering as a homestay with Hosts International.
Who is Hosts International?
Hosts International (www.hosts-international.com) was established in 1988 with its main function being then, as it still is today, to provide quality host families for international students and interns. Our aim is to ensure that every student is placed in a welcoming homestay environment which we strongly believe leads to an accelerated learning of English, an opportunity to learn English in a UK host family and a generally happier stay. Hosts International has its main offices at 1 Conduit Street, Mayfair, London, W1S 2XA and is always looking for good households interested in becoming a host family for foreign students.
Hosts International operates in twenty cities across the UK and Ireland (Dublin), working in partnerships with many leading institutions. We offer our students a wide range of services and cater for homestay accommodation for all ages, both juniors and adults. They travel as individuals or groups and 90% of our clientele are international students seeking the homestay experience. We also cater for interns and professionals with our student house share accommodation in London. We also offer students transfers and travel cards if they choose to book.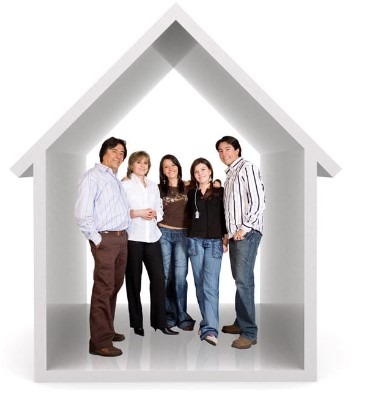 What is involved in being a homestay host?
It is a homestay's duty to guide their students throughout stay. Our students come to us from all over the world and staying ina host family accommodation provides them with a fantastic opportunity to experience British culture and to improve their English language. Thus, the experience can be hugely rewarding for both students and hosts alike. Many of our hosts and their guests remain in contact for a long time after they return home. You are to offer the student a fully decorated private bedroom, with bed(s), wardrobe/storage, desk/study facilities at a minimum.
*See below for a full list of what you need for your accommodation to qualify.
A homestay also offers the interaction of meals together when and where possible and providing weekly laundry access at no additional charge.
What We Look For
Hosts International works to British Council guidelines in recruiting new homestay hosts and we look for hosts that will not treat their student as a paying guest, but rather, as one of the family. We are looking for hosts who will provide a warm welcome and will be willing to help their guest settle into life in the UK. This may mean giving them a short orientation on their arrival day, pointing them in the direction of the nearest tube/train/bus stops and helping them plan their journey to their place of study/work. We are looking for hosts who would share their culture and experiences with students whilst learning about theirs. We would like homestays who will be happy to take the time to engage with their guest and provide a warm welcome to make the guest's experience here in the UK a positive and memorable one.
We look for flexibility in our homestay hosts. We have a higher demand for junior students, so homestays that can offer full board (breakfast, packed lunch and an evening meal) will always be in demand. We require our homestays to have a DBS certificate registered under Homestay Host or Child Workforce category, a gas safety certificate, two references and a fire risk assessment of the property.

Locations in London
We are recruiting homestay hosts in all areas of London, ideally in zones 1, 2, 3 and 4 and close to an underground station (no more than a 15-minute walk or short bus ride). Please note the greatest demand will be homestays near an underground station.
In UK towns and cities & in Dublin, Ireland
Hosts International also recruits homestay hosts in many cities across the UK and Ireland. Some of our popular locations include: Birmingham, Bournemouth, Brighton, Bristol, Cambridge, Canterbury, Coventry, Dublin, Edinburgh, Jersey, Kent, Leeds, Liverpool, London, Manchester, Medway, Northampton, Oxford, Swansea, York.
We are always expanding our network of homes and offer rewards for friends and family you introduce to us. Please drop us an email on hostfamily@hosts-international.com with your details and area/location/postcode and we will let you know your suitability and be in touch.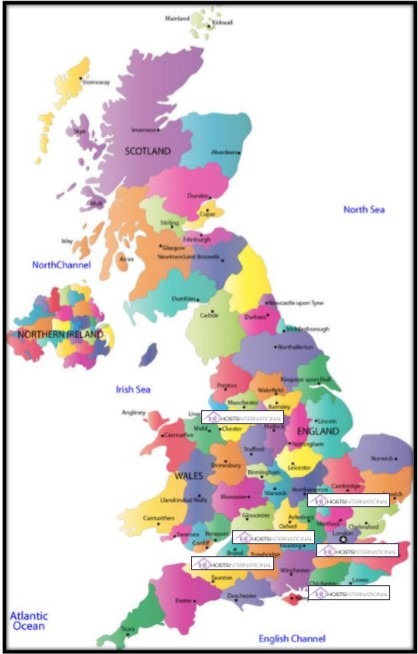 Online Interactive System
We are also operating our online interactive system, that allows the students to browse through our offered locations and see some of homestays available. The students then can request the suitable homestays based on their profiles on the interactive system. Please note that we only include first name and first initial of surname together with postcode of each homestay due to security reasons. Please do let us know if you would like to be listed on our online Interactive System.
Length of Stays
Guests' stays vary. There are short term stays and long-term stays. Length of stay can be anything from a week to a year. You will be informed of length of stay upon accepting a booking but flexibility on what you offer is key to ensuring you are provided with students year-round.
Accommodation Categories – London Only
We generally offer one category of homestay accommodation but offer a premium for higher quality and with a private bathroom.
Mainly zones 2, 3, 4 and 5 this is a very good level of homestay accommodation. It will usually be within good residential areas and mostly in apartments or houses with gardens.
London – Superior and Executive
Mainly zones 1, 2 and 3 and will be a very high standard of accommodation, most with the additional benefit of a private bathroom. This will be either in houses or apartments or in central/desirable locations.
Meal Options

Bed and Breakfast
Continental Breakfast: Cereal, Toast, Jam, Tea/Coffee, Juice
Half Board
Continental Breakfast: Cereal, Toast, Jam, Tea/Coffee, Juice and Evening Meal: Main meal of two courses to include a meat or fish dish. To be eaten with host.
Full Board
Continental Breakfast: Cereal, Toast, Jam, Tea/Coffee, Juice, Packed Lunch: Sandwich, drink, chocolate bar, crisps and piece of fruit and Evening Meal: Main meal of two courses to include a meat or fish dish. To be eaten with host.
Self-Catering
Guest prepares own meals and has a dedicated storage area for food in the kitchen in the fridge, the freezer and a cupboard for dry ingredients. Students will use your kitchen utensils. Times for use of kitchen to be agreed with host.
Please note: students are here to experience homestay and interact and integrate into your home, therefore 99% of students opt for Half Board or Full Board. We also have independent students, who require Self-Catering.
How much will I be paid to be a homestay host?
Remuneration will depend on your location, distance to the school of students, any meal package that you are able to cater for and our classification in the above categories. We aim to pay reasonable weekly rate will be decided upon the home visit done by our homestay inspector. If you wish to know more accurate weekly rate for your location before registering, please speak to one of our advisers.
As much as hosting is a secondary income for our homestay hosts, we hope that it is also an experience that both the homestay and the guest should enjoy.
Why should I work with Hosts International?
As a homestay host you can be assured that students are selected with great care and are expected to abide by your own customs and have reasonable expectations. We work with only the leading schools, colleges, universities and agents, mostly British Council accredited (UK) and ACELS accredited (Ireland), to ensure the calibre of students lodging with you. Of course, there is the added benefits of receiving a weekly financial incentive for each student you accept into your home, friendly team, out-of-office hours support, regular bookings and many more. We work to certain standards when it comes to the quality of the students. We also take extra measures and carry out compliance on students and homestays to protect both students and homestays and give them the right advice. Due to this we ask all the hosts for gas safety certificates and fire risk assessments on annual basis.
Although there is a seasonal demand in summer, we work with our schools year round.
We work with several schools in each location giving us the ability to provide our homestays with more international students. This provides the possibility for the hosts to meet students from all corners of the world and get to know more about their habits and enhance their own cultural knowledge.
Being a homestay host with us broadens life experience and is often the start of lifelong friendships. See why by choosing us. We have a team of friendly support staff to assist you all the way and a 24/7 emergency line. More importantly we pay our hosts by regular weekly payments that guarantees your income. You deal with us not the students in all matters financial.
Become a Homestay Host
If you would like to become a homestay host, then we now need to know a little more about you.
We are always keen to hear from prospective homestays. Please fill in our short online application form, or please tell us as much information as you can. Please upload photos of the room(s) you have available and send them through. Don't forget to leave your contact phone numbers!
On receiving your application form, we will telephone you as soon as is possible to confirm that the service will suit you.
Or send us an email at info@hosts-international.com, letting us know a little bit about yourself and your family, answering the following questions:
Your full address and postcode?
What do you do for a living?
Do you have a current valid DBS/PVG as a homestay host or are you willing to apply for one with HI?
Are you free to host students all year round?
Please let us know about the rooms, are they singles/twins?
Is the bathroom shared?
Are you happy to offer meals?
Do you take male and/or female students?
Are you DBS, PVG or GARDA checked?
Why do you wish to host students?
What would make you a good host?
Can you send any photos of the accommodation please, which will help us determine the price based on relocation and facility offered.
To complete your registration, you will require an up-to-date Gas certificate, appropriate security check as a homestay (DBS/PVG/Garda) and a fire risk assessment. We also ask for two references and will guide you through the rest of the requirements. We can apply for your police check through our organisation and assist you with this application, please let us know if you wish to apply through us.
We look forward to hearing from you with photos, answers to the questions and the required documentation.
Check your journey
Please check your journey here, to see how close your home is to your preferred locations.
Frequently asked questions
What fees do I need to pay and when do I need to pay? If I am staying long-term, do I need to pay in advance or can I pay in instalments?
admin
2020-01-08T13:07:53+00:00
Once you send us your booking request, we will send you appropriate quote and a homestay profile which should meet your requests. We ask for the payment to be made as acceptance of this office and confirmation of your place. Once we receive your payment, we will be able to send you the Booking Confirmation with the address and contact details of your homestay. Due to the security reason we do not share any contacts or whole address prior to receiving the payment from students. For long term students we confirm that you can pay the first part of your stay (ideally two weeks or month fee) and then pay in agreed instalments.
Testimonials
The family I was with, was very kind, the food tasted delicious and was abundant, the room was very clean. The members of the family were in real contact with me during dinner time. All of them helped me with my poor pronunciation. In one word; they were Fantastic.
I am very grateful to my host family, She really knows how to treat students in her home. She enormously helped me in all the aspects; by the way, she was the person with whom I had the most real contact in this country. Real English conversation is one of the most important topic to strengthen this difficult language, and she knew how to engage me to do it. My sincerously thankfulness to her. Thanks 😊
She has been a very good woman with me, I have could speak a lot with her, the dudes than I had she resolved me. So I'm so grateful. 10 out of 10
My host mother have given me one of the greatest experiences I could ever get on this interchange. She treated me with care, always starting conversations to welcome me in their family. Their two sons, are so great! I loved the times we spent playing together and I'm very sad to let it go (cannot forget that they are also Doctor Who fans, which is a talent in my book). The host father is a great host, helping me out whenever I needed. He's also very comprehensive and his company was invaluable. in the end, all I wanted to say is that the times i spent here were amazing and if I could I would stay here way longer. "I Don't wanna Go!"
Hello. My stay at my homestay accommodation was quite good I would say. The house is nice, the bedroom is big and spacious. But one thing I disagree with the description I read regarding the accommodation is the adjective "warm". I think is just normal, nothing more, nothing less. There were very few conversation between me and my host, with not much interest. So that is why I would not say is a warm house. Nota bene: I am not saying I had a bad welcome, it was just normal, nothing outstanding.

Finally, one thing is that I still don't get is why she said there was another person coming to her house (that is why I moved one day earlier), when it was not. But after all, a good accommodation.
My husband and I have been Hosting students and group leaders for Host for all of 2018. We previously did it in 2014 but in moving house which needed a lot of renovation we had to stop for a while. We are now retired and find hosting great fun meeting students from all over the world previous students from Venezuela, Columbia Japan Korea China and all over Europe. We host on long and short term basis from a week to a year. Host International are an excellent company to work with supportive of students and host families alike. Please consider us and Host International if you are looking to stay in Bristol England as you will find security and fun.
Host: S J From Bristol