Coming off the phone after speaking to our host, Mrs H Miller, who lives in North East London, we thought we must write up the very lovely and interesting conversation we had with the homestay host.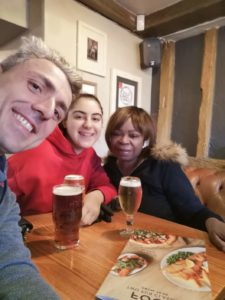 The host is originally from Sheffield in the North of the UK, living in London. She has been hosting international students with us in her home, in two student rooms for the last three years.
Upon ringing her, she exclaims, 'the students are still in bed , it's nearly mid day!' 😊
Now that the lockdown measures are easing in England and things are opening, she does not mind at all that they are out and enjoying themselves and making the most out of their social programmes but are reminded that their parents had paid a lot of money for them to come and study in England and hopefully they are continuing to learn the language. She does go on to tell us that she just loves her two students: one from Japan and one from Mexico- both in their 20s, and how much she appreciates the company and of course the additional income as she had lost her job due to the pandemic.
She had recently taken them to the local supermarket, the co-op, to buy some snacks and she allows them to choose treats and snacks that they would want, like crisps and ice creams (if the weather permits, British people love to talk about the weather! 😉 She corrects their language skills as they wonder around the shop and check out their items. What a nice way to practice in reality.
They returned home and that evening and over the weekend, they do a variety of things such as playing monopoly, card games, watching the Olympics and getting quite competitive! Young Manuel, she calls her Mexican student, enjoys a few beers and as they are adults, they decided to celebrate all the Gold medals the England/GB team had won! Another great opportunity to sit down and speak and practice their English in a host family home.
She went on to say that she may not be a teacher, but she really hopes that the students learn from practicing their English and living with a local and getting hands-on and real experience of using the language and what they study at their school.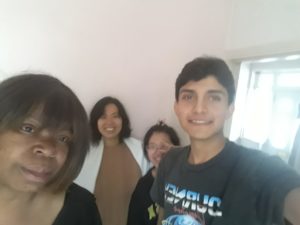 She continues talking about am ex student, 34 year old Mai from Japan, who had stayed with her for 3 months earlier this year, and went off and found her own Air B&B and doesn't like it all but it's in a contract that she can't get out of and we got in touch with her so we explained that's why students should book with Hosts International and with a homestay or living a host family because its flexible and there are no contracts to tie them in. They can book minimum one week or a term or a year, and if there are issues or if anyone is unhappy, we can replace their accommodation or move them to another satisfactory accommodation with no charge. This is why its such a flexible way for students to choose their accommodation while they are in the UK.
Mai still visits her at least three times a week and asks her for help and support, has meals with her, and brings her laundry over like she would when she was living at home with her mum and dad! It's really nice to see and hear how our hosts interact, treat, and look after international students staying with them. Building life long friendships and cultural exchange all are part of host family living.
So if anyone is interested in experiencing staying with Mrs H Miller or an accommodation similar to it across London, please be in touch! Email us at info@hosts-international.com